Before we talk about making a karate practice chart, we need to know what it is. It's actually fairly simple and, as a parent, you will likely recognise it as something closely resembling a chore chart. In fact, it is a chore chart. We switch the various tasks, or chores out. Replace them with karate practice and specific karate techniques, katas, kumites, etc.
Why is having a Karate Practice Chart important?
It's important to set the kids up for success in their karate training. We want them to learn life skills, like time management, commitment, self-reliance. It is our job as instructors to make sure our students have all the tools they need to be successful in their practice. A Karate Practice Chart is a great way for kids to track how much practicing they do and gain rewards for doing so. Like a sticker each day or the satisfaction that comes from seeing a chart full of completed tasks. This sense of accomplishment will drive and motivate them to do it more. Like with Chore Charts. (Successful chore charts, not all kids respond well to this tactic.)
Now we recognise it, let's make it
Like with anything, there are several ways to create a training chart. Each with its own advantages and disadvantages.
Digital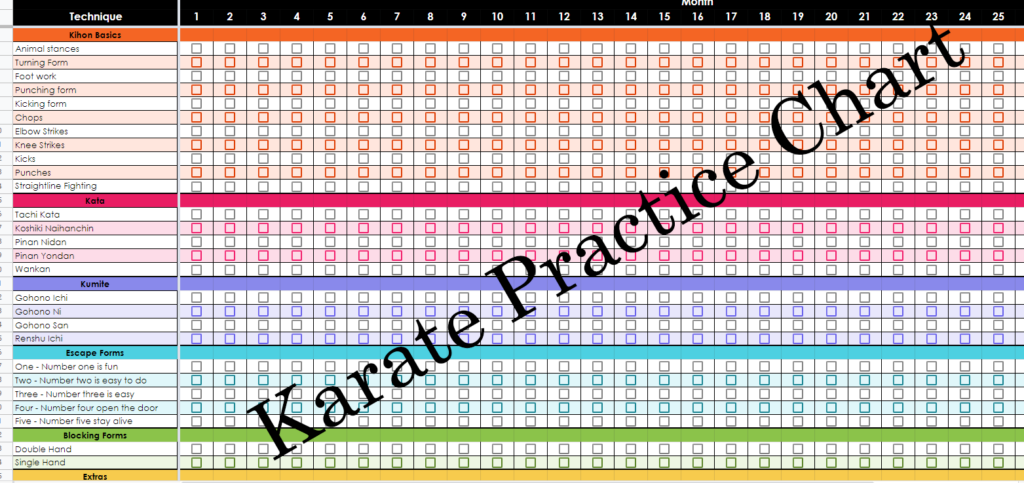 You can easily make a spreadsheet, fancy it up a bit. With checkboxes and everything. (Aren't checkboxes satisfying to tick, maybe that is just me?) This is a good system for kids who are older and can navigate a spreadsheet on their own. It is also paperless, which can be a bonus and always accessible.
The down side: It's a screen. We try very hard to not encourage too much screen time, but for this, we can make an exception. Another downside, if your child doesn't have their own device or needs help with it. In this case, we encourage you to think about using a different medium so there is less strain on you as the parent, and the child feels empowered doing it themselves.
Physical Chart
Let's take a look at a physical karate practice chart. A huge advantage to this one, there is no screen involved. Which, for many of you, means your little ninjas can use the chart on their own. I have always been a huge fan of bristol board, bright markers, glitter, and stickers. In my experience, everyone loves stickers.
This is a great project for kids and parents to work on. It is always nice to create something together! Kids get the opportunity to learn about organization, page structure, spelling, days of the week, etc.
The down side: It can be time consuming. If you are doing a monthly chart, it has to be rather large. If you do a weekly one, it needs to be replaced every week. However, there are worse things than a weekly art project with the kids.
So which model do you prefer? Have you tried a chart for your child? Did it work for them? Did you notice a difference in motivation? Feel free to share your chart in the forum.