At V-Fit P.R.O. we offer a variety of programs for adults. Intense cardio-jam sessions with Pound and high intensity Women only kickboxing.
List of Classes:
Women Only Kickboxing: Heels off, Gloves on Ladies, Bring it!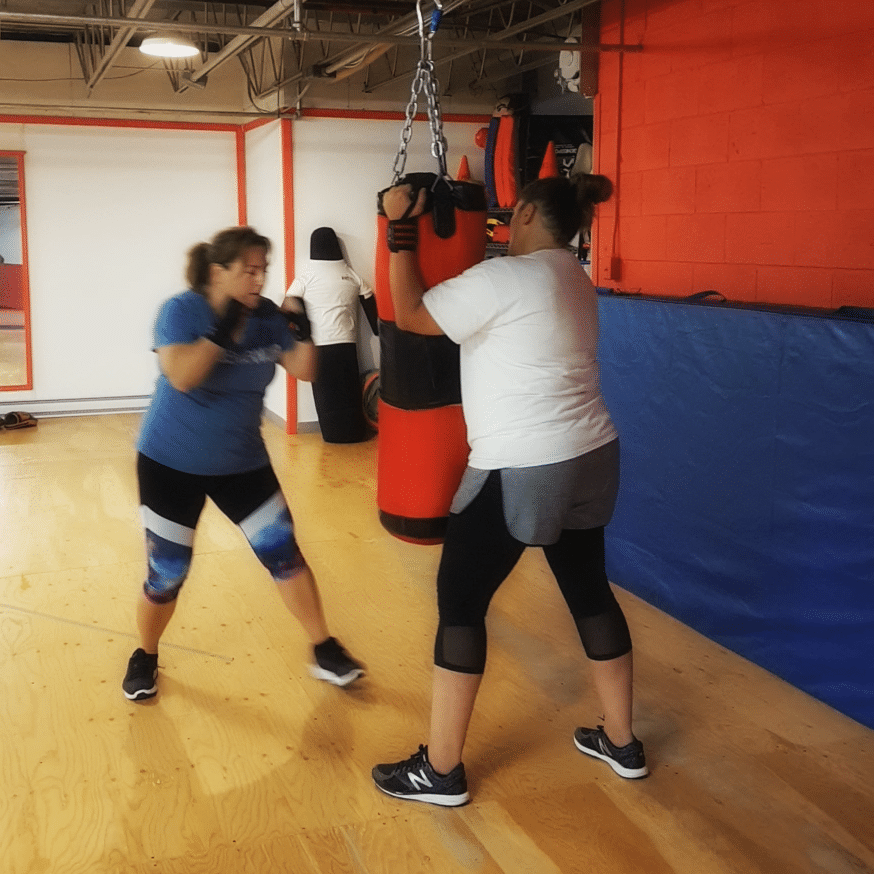 Our Women only kickboxing class is not your standard fitness class. You get so much more out of this. The fact that you get a full body burn should be enough to get you to come and try it. But if you are that person that is looking for more, then you have come to the right place.
Techniques are broken down not only for you to learn how to execute them correctly and safely, but you will also learn and understand their applications. It's not only about punching the air. Every move you make is made with a purpose. You will gain a fair amount of knowledge and the confidence to turn to Kickboxing as your self-defense go-to. And, at the end of the day, you may simply just need to hit something to relieve that stress. We can help you with that too! All this, in a safe and fun environment.
---
Fit and Fight: A specially curated program from Shinan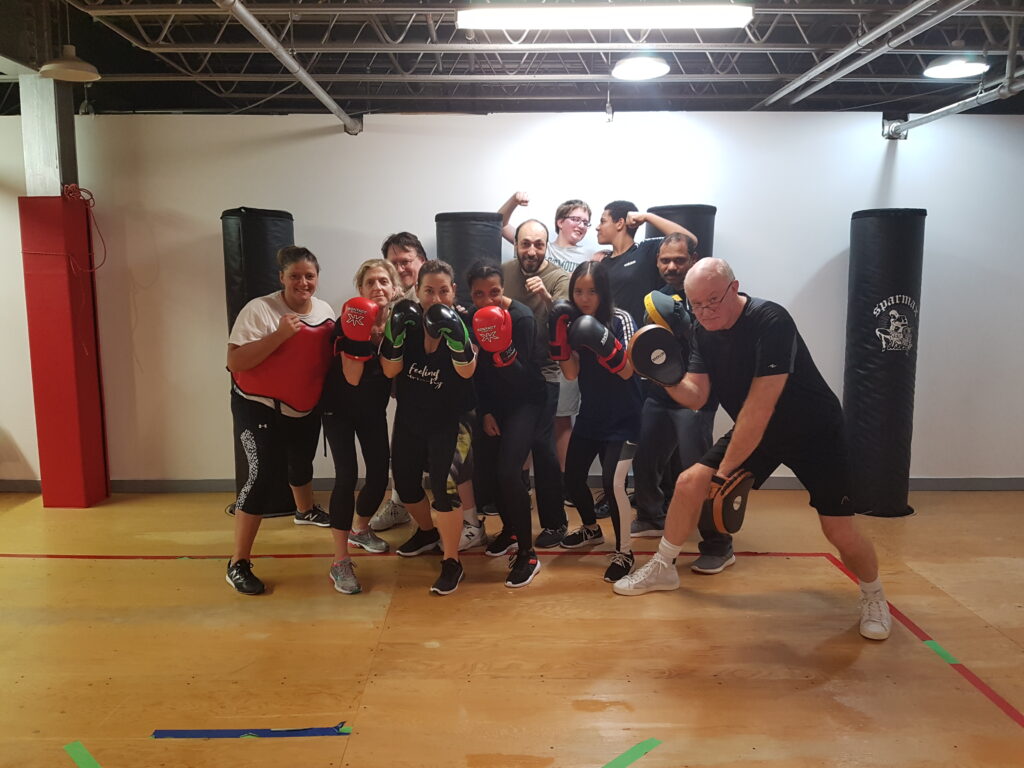 Easily one of our most intense fitness programs for adults. Fit and Fight combines fitness, cardio, and strength training with martial arts training. Fit and Fight offers participants the chance to let out their inner warrior. However, taking comfort in knowing they are in a safe environment with a skilled, experienced instructor. The Fit and Fight class is open to all levels of athletes, and, of course, to beginners. It involves a variety of fighting disciplines including boxing, kickboxing, wrestling, and more. Shinan guides you through execution of techniques and provides constructive feedback.
The "Fit" part of Fit and Fight, changes with just about every class. In short, constantly forcing your body to adapt. This creates a great calorie burn and you feel good while doing it. Boredom is never a factor in this class. The fast-paced nature keeps you on your toes for the whole 90 minutes.
This class does have a sparring component, meaning there is fighting in the group. However, this is carefully monitored and safety is always of the upmost importance at V-Fit P.R.O. Hand wraps are recommended. We do have boxing gloves, however, given the current COVID-19 pandemic, you may want to have your own.
---
Morning Circuit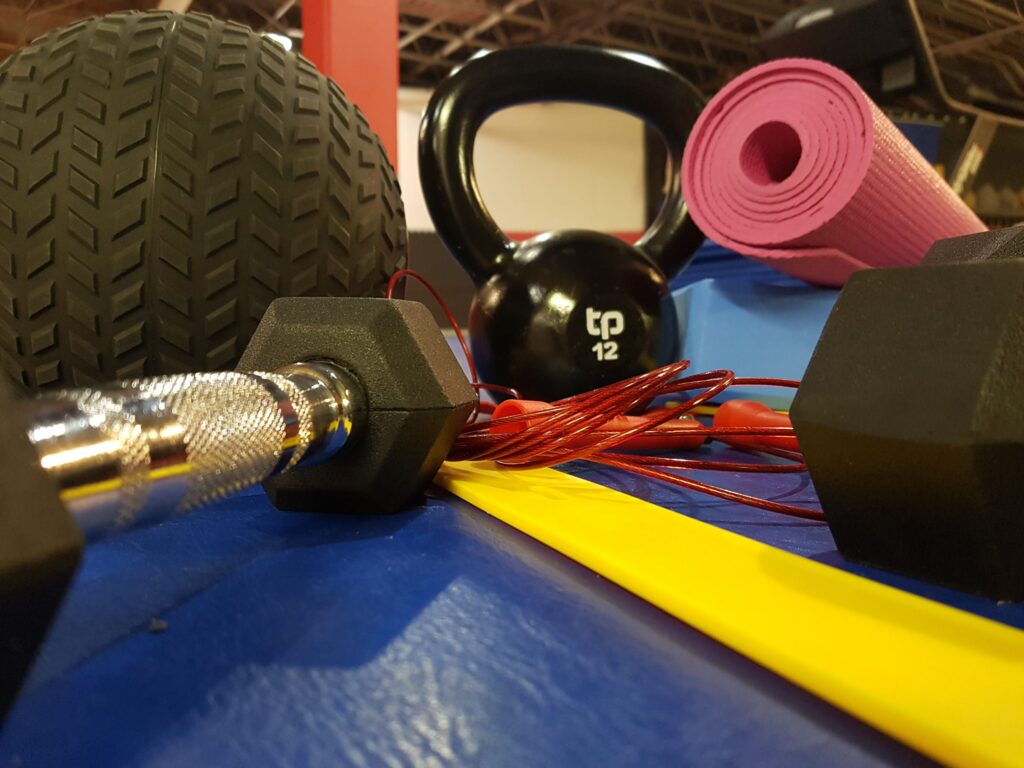 Circuit training has been proven to be one of the more effective methods of exercise for weight loss and health. Add to that the fat burning power of HIIT (High Intensity Interval Training) and it looks like a recipe for success. Our Morning Circuit group fitness classes are short bursts of intense exercise with a short reprieve. Once each circuit is complete, a well deserved break is yours, then repeat. Start your morning off right with this group fitness class. Morning circuit combines strength training, with weights, kettlebells, body weight exercises and cardio.
How long is a Morning Circuit Class?
Get this… 30 minutes!!!!! How awesome is that? 30 minutes, and you're done for the day. Amazing. So 5 minutes are devoted to the warm up with another 5 reserved at the end for cool down. Add in some shoe changing time, clothing updates, a quick cleaning and you're in and out in under 45 minutes! Ready to start the rest of your day!
What exercises can I expect in the Morning Circuit?
The exercises change and are modified regularly. Why? To keep your body adapting. Some exercises are favourites, some are revisited, some we do for a few sessions and more on. The idea is to keep the body in motion and guessing. Routines are wonderful and they definitely have their place, but when you are trying to pack in a full body experience in 30 minutes, we have to change up the morning circuit frequently.
I have trouble with certain exercises. Should I skip that station in the morning circuit?
We don't skip any stations during our morning circuit, what we do is change the exercises so that they target the same muscles in a fashion that will not strain any existing injuries. We have modifications readily available for each exercise. Everyone's fitness level is different and we have taken this into account when creating the Morning Circuit. Modifications, and some times a completely different exercise can be assigned. It is important to understand the difference between "can't do" and "it's hard" but that's what the instructor is there for.
---
Body Bootcamp
When it comes to group fitness classes, bootcamp is king. It is popular with the outdoor fitness community for several reasons, versatility, minimal equipment, advantages in large space… you can see where we are going here. Bootcamp is intense! The benefits are awesome and you feel like a champion when you finish.
How long is a Bootcamp Class?
We run our Bootcamp class for an hour. 45 minutes of intense work out, preceded by 5-10 minutes of warming up and 5-10 minutes of cooling down and stretching.
What can I expect in Bootcamp?
It is based on intervals, however, the intervals run a little longer. The exercises are all bodyweight or cardio, no equipment needed for this class. .
If you need modifications, there are some and we encourage people to work out at their own pace, pushing just enough. Expect heavy cardio, squatting, push ups and all kinds of exercises we all love to hate.
---
Kickboxing Bootcamp
This kickboxing inspired, fast paced, intense bootcamp is great for all fitness levels. This circuit style class can be tailored to any one. Modifications to ease the movements and mortifications to push your limits, it is up to you. Focus on strength while enjoying the benefits of cardio endurance and kicking bottoms.
---
Kickboxing
We have our Women Only Kickboxing class. We are also offering two more kickboxing classes; Family/Open to All Kickboxing and Open Kickboxing. Similar to the Women only classes, these are intense, cardio and strength centric classes. Adaptations are made for ages and limitations of participants.
---
30 Minute Abs
This class is devoted entirely to working those abs.
---
Cardio and Abs Tabata
Tabata is a style of HIIT where you follow intervals of 20 seconds of super high intensity, then 10 seconds of rest, repeat 8 times. It's become quite popular for a variety of reasons. High fat burning, short time frame, to name a coupe. We love it for the constant change of exercise.
For this class, we pick 2 exercises and perform them back to back with 10 seconds in between and repeat 4 times. Grand total 4 minutes. We, then take a rest for a minute and do another set of 2 exercises and repeat. We do 6 sets, bringing us to about 30 minutes when you include the cool down and warm up.
---
Pound: The Rockout Workout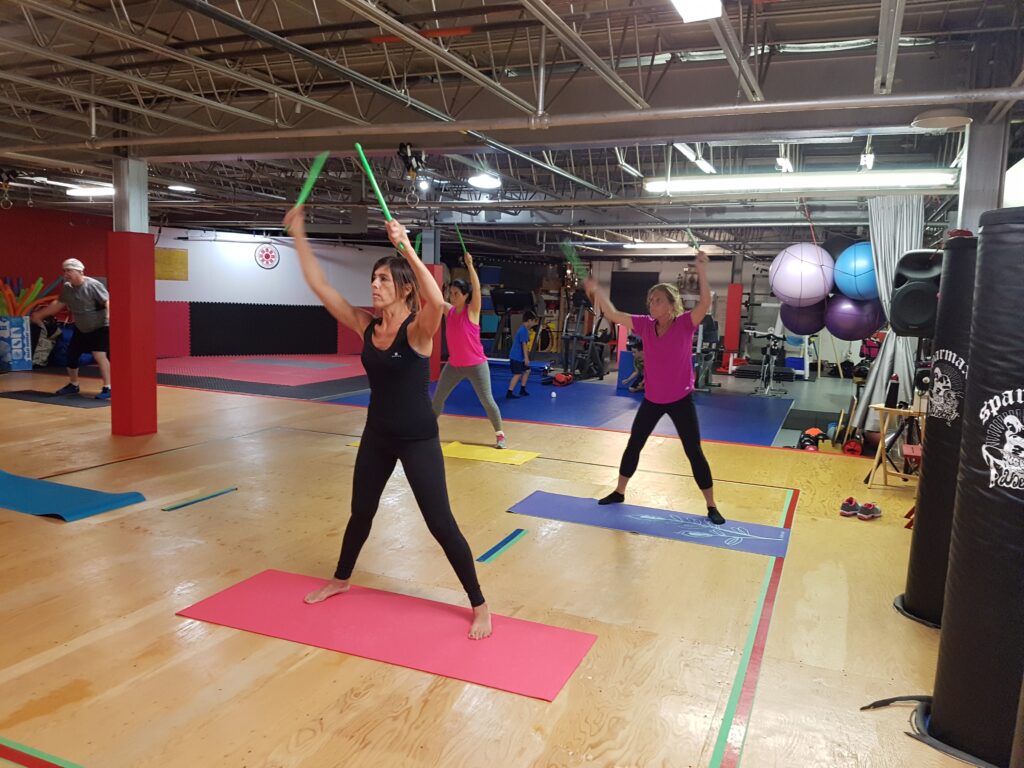 Instead of listening to music, you become the music in this exhilarating full-body workout that combines cardio, conditioning, and strength training with yoga and pilates-inspired movements. Using Ripstix®, lightly weighted drumsticks engineered specifically for exercising, POUND transforms drumming into an incredibly effective way of working out.
Designed for all fitness levels, POUND® provides the perfect atmosphere for letting loose, getting energized, toning up and rockin' out! The workout is easily modifiable and the alternative vibe and welcoming philosophy appeals to men and women of all ages and abilities.
---
Karate Programs for Adults
At the moment we are not hosting any karate programs for adults. Our current focus has been working with our junior program. We would love to offer a karate for adults program in the future. If you would like to see this course offered, please send us an email and we will let you know when the program starts up again.
---
Workshops and Events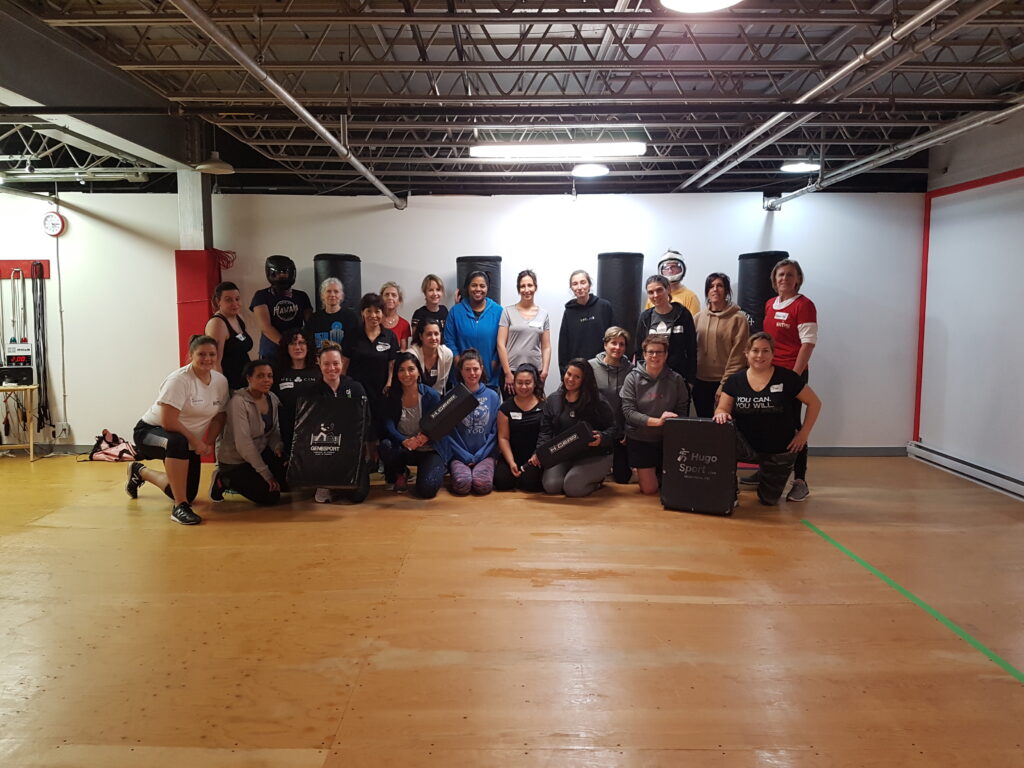 Throughout the years V-Fit P.R.O. has hosted a number of workshops, fundraisers, events geared to various activities. Unfortunately COVID-19 has limited us at the moment. However, all this does is give us time to plan more exciting activities for both adults and kids when the health crisis is over.
PAST EVENTS INCLUDE:
In-House karate competitions
Teen training camps
Monthly Fighting Workshops
Women's Self Defense
Pound with Purpose (a fundraiser for the Sun Youth food bank)
---
The Benefits and Perks to our Monthly Membership Programs for Adults and Families
Access to all our adult group fitness classes.
Priority registration for all workshops and events.
Discounts on personal training sessions, private classes, summer and winter break camps, and more.
In-person classes. All in-person classes are currently held outside, see our schedule for details.
Access to the gym. Sign up required to limit the number of people inside at one time.
Access to our fitness and healthy living Facebook Group.