Sensei Nicole as a personal trainer:
I believe the fitness journey for all individuals needs a little guidance every now and then. Whether you are just starting out or a veteran in wellness, this guidance can help you achieve your goals. Setting a standard for the rest of your life.
I view my role in your fitness journey as supportive. This is your journey, your adventure. My role is to support your goals as well as keep you accountable for your actions.
Martial Arts History:
After starting karate in 1989,  at the age of five, I discovered not only a sport but a way of life, which would become a passion throughout my life. I received my junior Black Belt, and competed in a variety of tournaments, including an International Competition in Japan. (Where I met Shihan Taddeo) In my later teenage years, I ended my Karate journey. Life just got in the way. But the lessons of discipline and dedication that surrounded my childhood have never stopped being important to me.
After some time, 15 years to be exact, I returned to the world of Shorinjiryu Kentokukan Karatedo. I have since redone my black belt exam as an adult, and then proceeded to receive my Nidan, second degree black belt. And as of December 2018, I have received my Sandan, third degree black belt.
Having loved the Karatedo experience as a child, I had my son follow the same path, albeit a little later in his life. We train together often and this has given me a passion for family fitness.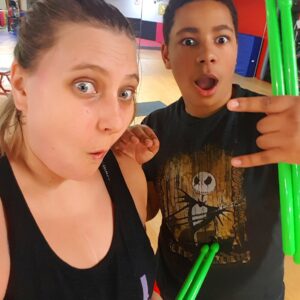 Sensei Nicole in youth classes:
I find moments for silliness especially in the Generation POUND class. Most karate students would be surprised that their disciplined Sensei is the same person laughing and dancing around to music with them.